John Glossa is a craftsman and designer.
Fabricating distinctive jewelry designs in silver, gold and fine gem materials.
It's amazing! Nearly 35 years have flown-by since I attended GIA in California to become a Graduate Gemologist and before that a Bachelors Degree of Geology in Colorado.
I have been creating  jewelry for over 30 years, and as long as I can remember I have had a keenness for rocks and gems. I will say after completing my  Graduate Gemologist studies at the Gemological Institute of America (GIA 1986) my appreciation for quality diamonds and gemstones certainly was broadened . Having the opportunity to have traveled to a variety of jewelry trade shows such as the mid-winter highlight in Tucson AZ I became aware of all the levels the jewelry business can and does function.
I am originally from Colorado where I worked as a custom jeweler near Aspen & Vail. I have taught jewelry classes in Colorado, Idaho, and in Oregon.  Currently I reside in Dillon, Montana.
Making quality handmade jewelry shall continue to be a goal and desire. Years of experience, artistic creativity and interest in the great outdoors result in beautifully hand crafted jewelry. A theme in my work in recent years has been a popular design motif of stylized Barbed Wire design, 
~ JEWELRY PRICING* & AVAILABILITY ~ Each jewelry item is individually tailored to the clients specifications, such as: metal type, size and quality of gemstones. This allows a buyer to order custom jewelry to fit their personal budget. Prices* shown on the web site are estimates and should be used as a guideline. Since each item will be custom made to your desires, currently it may take around 3 – 4 weeks to complete each jewelry order.
2018: John Glossa standing next to a fabulous wood carving by Michael Bryant of Bend, Oregon, at my favorite show in "Jackson Hole", Wyoming- Western Design Conference https://westerndesignconference.com/.
This show is held every September featuring many super artists.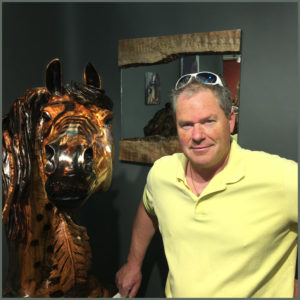 Questions??   call me  541.367.8857
Warm Regards,
John W. Glossa
PO Box 486 Dillon, Montana 59725