This work of art required endless hours to complete and was my entry to the 2016 Western Design Conference.

"UNTAMED" Necklace — Sterling Silver with individually hand cut Rock Crystal Quartz Claws
Untamed
When you stand next to a bear your heart shall be tested. Mine was indeed.
It was that memory that has inspired this design.
In many cultures, the bear is a powerful icon, evoking feelings of:
Courage, Leadership and the strength of a Free Spirit.
The Barbed Wire accent design flanking the core Bear Paw represents the ongoing attempt of humanity to control and confine the world about us.
Examine the confines of life and you may find freedom isn't defined by others, but rather comes from within.
Look closely and you shall see every component of "UNTAMED" is hand fabricated Sterling Silver.
No casting, nor machining…just patients, a steady hand and hours of time.
Feel the smooth, clear claws that are cut from natural Quartz crystals and observe each claw moving individually. A braided leather accent adds natural warmth to the cool metal and crystal.
Designed and fabricated in Sterling Silver with individually hand cut and polished Rock Crystal Quartz "paw and claw".
This is a fantastic work of art, with every component hand fabricated. The "groovy" thing in the design of this piece is each rock crystal claw independently moves. Accented in braided leather this piece is the center of attention at any "rendezvous".
One of a kind!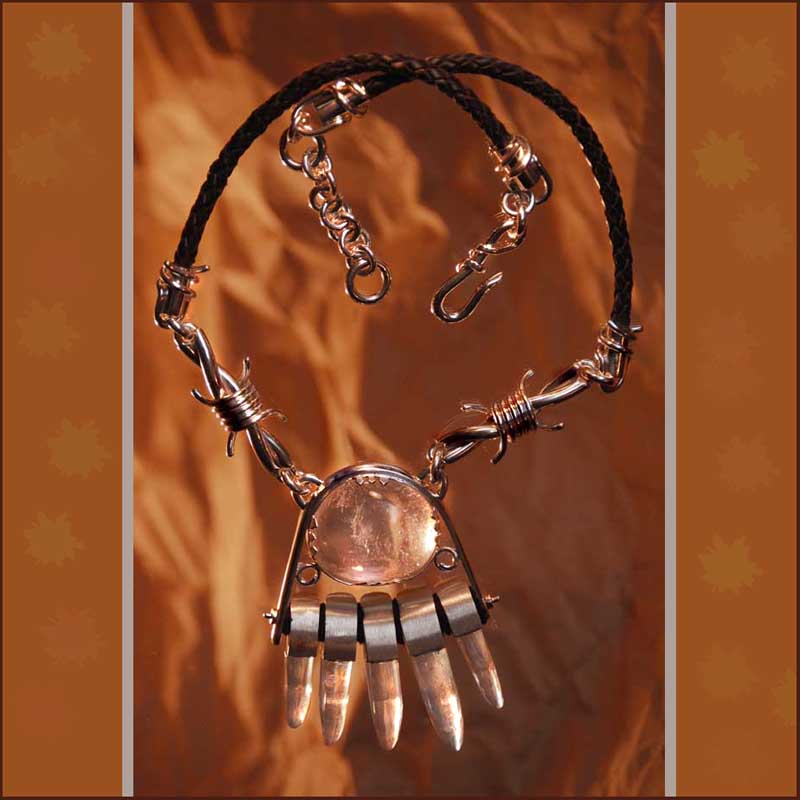 This 4 day event in Jackson Hole includes an art auction and fabulous hand-made clothing fashions. Pictured below is a runway model wearing my Bear Clan Necklace-"UNTAMED".