Celestial Art in 14 karat Rose Gold. This was my 2017 entry to Jackson Hole Western Design Conference.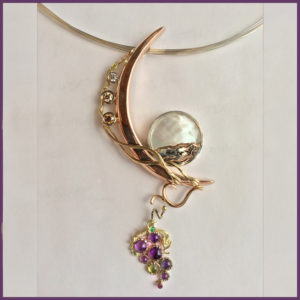 Harvest Moon
-Rejoice
-Relax
The toil of Summers effort is at an end
a bounty from the field & vine comes the prize.
Witness the crisp morning air
and days of softer sunlight.
Colors have turned to a gentler palette
with a luster of pleasant earth tones.
Savor the moment
The Harvest Moon is upon us !
JG
I do love the intensity of an Autumn full moon. It rises with a rich
amber-like hue and become a cooler white, seemingly without haste.
Included in this work are 3 colored diamonds, in ascending order:
Cognac, Champagne, and Light Cape.
Centered and encircled by sterling silver, the silhouettes of birds in flight are back-dropped by an iridescent mother of pearl "full moon".
The majority is fabricated in 14 karat rose gold, with "twists" of yellow and green 14 karat golds.
The additional (and optional) grape cluster pendulum is created from 18 karat green gold with a variety of gemstones stipple-set in 18 karat white gold. The grape cluster gemstones include: amethyst, iolite, peridot, emerald, and a purple diamond.
I chose a grape cluster within my work knowing what a prize of Autumn to every vineyard they are. The cluster is detachable so may be worn with or with the main body of work.
It was hand fabricated and truly a contender at the 2017 WDC.